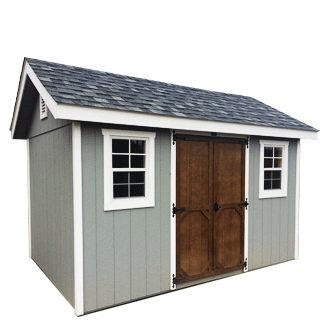 Sizes ranging from
6X8 to 14X40
The A-Frame is our most popular style shed. Named for it's "A" shaped roof line, it measures approximately 10' high at the peak, giving you more overhead than our MiniBarn. This shed serves as our base for our Hip, Dormer, and Garden Style buildings. Our A-Frame buildings are also easily able to be converted into a 1 Car Garage. If you're looking for basic storage that easily matches your home, the A-Frame is a great option for you!
‍
All of our A-Frame Buildings include one set of double doors (4' on 8' wide, 5' on 10 wide, and 6' on 12' and 14' wide) as well as two 18"x27" window with a screen standard. You will also get your choice of placement of doors and windows, as well as colors for your building.
This attractively designed building is of quality construction, it will not rust, dent, chip or spall. It is strong enough to accommodate all of your storage needs, whatever they may be. The sturdy SmartFloor is 7 5/8" from ground level, minimizing any tendency to draw dampness or rust stored equipment. Our SmartFloor incorporates a special coating on top, which prevents any spills from soaking in, keeping your floor clean and strong!

All of our buildings are also built with SmartSide and have a foil backed interior to act as insulation. Both our SmartSide and SmartFloor are termite and rot resistant, to ensure your building will serve you for many years to come. All buildings also include pressure treated foundation runners will not rot, and facilitates moving the shed, if necessary.